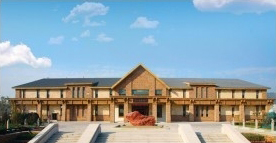 Dalian Zhongshan Art Museum is a modem multi-functional contemporary art museum, and it is a Non-profit Cultural institutions that services social development and opens to the public. It takes on the social responsibility and historical mission of the collection. research, exhibition of the state of the art treasures, and the development of civic art education and international cultural exchanges with foreign countries and contemporary art .It has six major functions of collection. research, exhibition, education, communication and service.
Dalian Zhongshan Art Museum was established in 2009 , It opened in April 22,2011 after two and a half years of construction, and is the first professional museum in Dalian. It is a public welfare projects that has a total investment of 55,000.000 from Dalian City Zhongshan District Finance, also is one of projects of doing things for people. Zhongshan Art Museum is located in Yingbin road with beautiful scenery, west of Bangchui island. The museum covers 5600 m8 in total, and has Construction area of 11000 ms. The main structure is the basement and the ground of two. The museum has two exhibition halls with 2500 m: in total. The area of the first floor exhibition hall is 1100 m: and the show line is 248 m long. The area of the second floor exhibition hall is 1450 ms and the show line is 310 m long. The top of hall with 17 m high uses " Ding " artistic elements, and the square wood structure draws the outline of an exquisite pattern.
There arc multi-functional hall, collection chamber, VIP room, education function with large area and matched comprehensive service facilities. and so on. From the scale of construction, the level, and the function of equipped facilities. It is a professional art museum with the highest grade, the most comprehensive function, the largest area, and the highest degree of modernization that can satisfy large scale exhibitions with different kinds of art materials. It is a perfect place to show works and do academic research and exchanges for contemporary artists and scholars.
大连中山美术馆是现代多功能型的当代美术馆,是一个不以营利为目的、为社会务发展服务、面向公众开放的文化事业机机构。担负着对国家艺术珍品的收藏、研究、展示,开展公民艺术教育及国际文化交流,推动当代美术事业发展的社会责任和历史使命,具备收藏、研究、陈列展览、教育、交流、服务六大功能。
中山美术馆于2009年立项,历经两年半时间的建设,于2011年4月22日正式开馆,是大连首个专业级的美术馆,总投资5500余万元人民币,是由大连市中山区财政投资的公益性社会事业项目,也是区委、区政府为民办实事项目之一。
中山美术馆位于位于风景秀丽的迎宾路,依山傍海的棒棰岛西侧,占地面积5600平方米,建筑面积11000平方米,主体结构为地下一层、地上两层,设有总面积达2500平方米的两个展览厅。 一层展厅1100平 方米,展线长为248米:二楼展厅1450平方米,展线310米。其中高17米的大厅顶部采用"鼎"的艺术元素,方型的木梁结构勾勒出精致的图案。
另有多功能报告厅、馆藏室、贵宾室以及创作室,还设有大面积的教育功能区以及配套的综合服务设施。从建设规模、档次以及设施配备功能来看,在整个东北地区是档次最高、功能最全、面积最大、现代化程度最高的专业级美术馆,满足了不同艺术材料的大型展览。是当代艺术家、学者进行作品展示、学术研究和学术交流的一个理想场所。