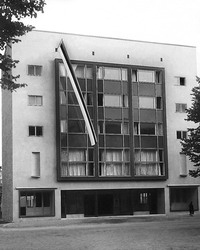 Tallinn Art Hall‏
塔林美术馆
Tallinn Art Hall is a central art space on the main square – Vabaduse (Freedom) square in Tallinn. Art Hall was opened in 1934. The modern building was designed by Estonian architects Anton Soans and Egdar Johan Kuusik.
Art Hall is run by Tallinn Art Hall Foundation. The main activity of the Tallinn Art Hall is to organize contemporary art exhibitions. There are three exhibition spaces: main hall (8 Vabaduse Square, four rooms, altogether ca 500 m2) and two galleries: Art Hall Gallery (6 Vabaduse Square) and City Gallery (13 Harju Str).
The main focus of Tallinn Art Hall exhibition program is Estonian art, but there have been also significant foreign art exhibitions. In the galleries also younger generation of Estonian artists have been shown regularly. Each year in all three Art Hall spaces more than 30 exhibitions are held, attracting alltoghether around 50 000 visitors a year. In 2014 the 80-anniversary of Art Hall will be celebrated with a big exhibition where Art Hall collection will be displayed.
塔林艺术厅是塔林的中央广场Vabaduse(自由)广场上的中心艺术空间,于1934年开放。这一现代建筑是由爱沙尼亚建筑师Anton Soans和Egdar Johan Kuusik设计的。
艺术厅由塔林艺术厅基金会运营,主要举办当代艺术展览。礼堂有三个展示空间:主厅(Vabaduse广场8号,四间小展厅,总共500平米)和两个画廊-艺术厅画廊(Vabaduse广场6号)和城市画廊(哈留街13号)。
塔林艺术厅的展览聚焦于爱沙尼亚的艺术,但也有过重要的国外艺术展览。画廊也经常展出爱沙尼亚年轻一代的艺术家的作品。每年在三个展示空间内的展览超过30场,总计有5万左右访客。到2014年,艺术大厅80周年庆典上将会隆重展示艺术厅的藏品。