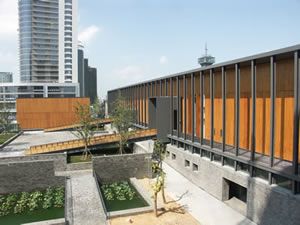 Ningbo Art Museum
宁波美术馆
Ningbo Museum of Art works directly with the Ningbo Federation of Literary and Art Circles.
Powered by their expertise and dedication, the Museum not only emphasizes the promotion of local artists, but also on worldwide artistic trends. With bilateral exchange programs and academic symposiums and exhibitions, the Museum aims to increase its international appeal. The Museum is located in the Bund area , by the river Yong. This site is the birthplace of early marine transportation and trade business in Ningbo. Converted and rebuilt from a port control building, the Museum construction retains the control tower, which along with the unique architectural form of dual-shell square base symbolizes an "Ark of Art" parked by the river.
The Museum consists of the main building, 2 piers and a rooftop plaza. The main building possesses one comprehensive exhibition hall, two primary halls and five secondary exhibition rooms with a total exhibition space of 5,300 square meters. There are also 3 separate collection vaults and additional auxiliary facilities, including a 400-seat conference hall, artist saloon, artist studio, and education center.
宁波美术馆是宁波市文联直属的正处级公益性文化事业单位,以立足宁波、放眼全国、面向当代作为办馆宗旨,以打造全国一流的并具有港城特色的高品位现代化美术馆作为奋斗目标,通过展览、收藏、研究、陈列和推广宁波籍艺术家及国内外知名艺术家的优秀作品,推动和提升宁波市文化艺术事业的发展。有计划的为 国家收藏、积累国内外艺术珍品。
宁波美术馆位于繁华的三 江口北侧,东临浩瀚的甬江,南联古朴的老外滩,西邻江北人民路。通过灯光设计,每当繁星、皓月之时,通过灯光的演绎,光芒四射,辉煌壮观,成为"三江文化长廊"中的璀灿明珠。
宁波美术馆由主楼、上台广场、咖啡馆、地下车库、码头等部分组成,占地15800平方米,建筑面积23100多平方米,其中美术馆主楼面积16200平方米,大小展厅面积达5300平方米,艺术品收藏库1500多平方米,可同时或分别举办不同类型、不同题材的展览。