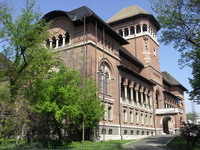 National Museum of the Romanian Peasant
罗马尼亚农民博物馆
The National Museum of the Romanian Peasant was founded (under a different name) in 1906, after departing of all the ethnological collections, from the original Museum of Antiquities (founded in 1864). Designed, initially, as a museum of arts et métiers (in the French cultural tradition), the museum has evolved in a modern museum of cultural anthropology, being interested in all the aspects of the traditional and modern life, inside the traditional and contemporary communities from Romania. The Museum researches and collects traditional and contemporary objects of everyday life, being interested in the significance these objects have in the Romanian society in the last three centuries.
It is a museum for which the tangible and intangible heritage is equally important; it is a museum which preserves historical monuments in situ and a huge collection of moveable cultural items and archives from all over the country, from the Romanian ethnic communities living abroad and even from some other civilisations.
However, the museum is famous in Romania (and in the whole Europe, after being rewarded, in 1996, with the European Museum of the Year Award) for its permanent exhibition (which treats the objects in a contemporary artistic manner) and for the non-conformist activities on cultural, educational and social fields. It is, also, famous, all over Romania, for its rich public agenda, involving a wide range of public. The museum was, also, awarded with many other Romanian prizes and international acknowledge for its highly appreciated cultural activities and social involvement.
罗马尼亚农民博物馆(以另外一个名字)建立于1906 年,将民族藏品从1864年最初建立的考古博物馆中分离出来。最初,作为一个法国传统文化中的艺术博物馆, 它已经发展成为一个展示人类文化的现代博物馆,对于来自罗马尼亚传统和现代社区 生活中的任何一个方面都颇感兴趣。该博物馆研究和收集日常生活中的各类传统与现 代的东西,尤其是在过去的三个世纪中,对罗马尼亚社会发展有着重大意义的物品。
对于这座博物馆来说,有形的和无形的遗产是同等重要的。这所博物馆在原位保存来自罗马尼亚民族及其它文明领域的历史遗迹的同时,也收集大量来自居住在国外的罗马尼亚种族社区甚至来自其他文明的可移动的文化物件及资料。这座博物馆以其永久展览(用当代艺术的方式对待物品)和在文化、教育和社会领域方面的非主流的活动在罗马尼亚著称(1996年欧盟授予其"年度欧洲博物馆奖"后为整个欧洲所知)。
同时,也因其涉及领域广泛,公共活动日程丰富而著名。该博物馆因被高度赞扬的文化社会活动而多次在罗马尼亚获得其他奖项以及国际的认可。