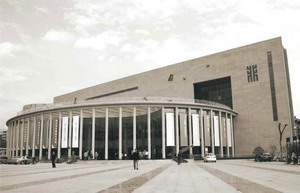 Hubei Museum of Art
湖北美术馆
Managed by the government with the public investment, Hubei Museum of Art is a non‐profit public welfare cultural institute planned and constructed to meet the cultural and artistic demand of the public according to the objective of modern multifunction. The museum takes "Bring local cultures to the world, focus on the contemporary art rooted in our heritages" as the concept of museum running, and art exhibition, collection, research, education, exchange and service as the major objective, and aims at a high‐grade specialized museum of art with unique characteristics.
Located by the East Lake in Wuchang district of Wuhan city, Hubei Museum of Art is provided with nice environment and convenient traffic. It is adjacent to Hubei Provincial Museum and is one of the symbolic cultural buildings signifying the achievement in cultural construction of Hubei province. The Museum covers an area of 15,318 m2. The main building is composed of four over‐ground floors and a basement. With a total building area of 25,000 square meters, it takes a total investment of 140 million Yuan, including 100 million for construction, and 40 million for land acquisition. The Museum is designed based on the functions and facilities. There are ten exhibition halls with an area of about 5,000 square meters. The total exhibition line extends over 1,200 meters and is enough for simultaneous or separate exhibitions of different forms and subjects.
Since its opening in 2007, with more than 70 exhibitions, over 40 seminars and over 20 academic lectures successfully held, Hubei Museum of Art receives 300,000 audiences on average each year and has gained great social effect. It has gradually developed into an important window and academic platform in Hubei Province for academic discussion, art works collection, popularization of aesthetic education, and promotion of cultural exchange. Among the art museums in China, Hubei Museum of Art was one of the first to open for free to the public on October 30, 2008. In July of 2010, It was renamed "Hubei Museum of Art" from "Hubei Provincial Museum of Art".
湖北美术馆是由政府投资管理,按现代多功能目标规划建设的、为满足公众文化艺术需求服务的非营利性、公益性文化事业机构。她以"立足本土、面向世界;兼顾历史、重在当代"为办馆理念, 以美术展览、收藏、研究、教育、交流、服务为主要目标,构建一个高品位、有特色的专业化美术馆。
湖北美术馆位于武汉市武昌东湖之滨,环境优美,交通便利,与湖北省博物馆相毗邻,是标志性公益文化建筑。美术馆占地面积15318m2,主体建筑地上4层,地下1层,建筑面积25000m2,总投资1.4亿元,其中工程建设1亿元,征地4000万元。其按美术馆的功能与设施所建,馆内有10个展厅,展区面积5000m2,展线总长度1200m,可同时或分别举办不同类型、不同题材的展览。
自2007年开馆以来, 已成功举办70多个展览项目,40余次研讨会活动,20多场学术讲座,平均每年接待观众30万人,产生了良好的社会影响, 逐步成为湖北省展示艺术作品、开展学术研讨、进行美术收藏、普及审美教育,推动文化交流的重要窗口和学术平台。2008年10月30日, 湖北美术馆实现了在全国同行业美术馆中率先免费开放。2010年7月,由"湖北省艺术馆"更名为"湖北美术馆"。