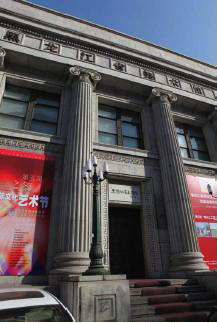 Heilongjiang Art Museum
黑龙江省美术馆
Heilongjiang Provincial Art Museum is the officialMuseum of Fine Arts which has the following functions, collection, research, exhibition, exhibitions,public education, cultural exchanges and artisticservices. Heilongjiang Provincial Art Museum is a permanent national cause of public cultural institutions which is open free to the public.
Heilongjiang Provincial Art Museum was founded in1962, which, after five years of development and improvement, has the following establishments,Edition Art Academy of Heilongjiang Province, Heilongjiang Academy of Fine Arts Creation,collection department, exhibition & display department, theoretical research department, the Ministry of Public Education, the Academic Committee original Printmaking Base in Heilongjiang and other professional sectors. At present there are 40 formal staffs, including 10 staffs of senior professional titles, 10 staffs of associate senior professional titles, more than 5,300 pieces of the collection of art works. Heilongjiang Provincial Art Museum is located in the Daoli Lot Street No. 97 which has a total construction area of 3,000 square meters, and exhibition area of 1,000 square meters.
Heilongjiang Provincial Art Museum has the following aims : adhere to the public welfare and public promotion of ethnic culture, spread advanced culture, Inheritance of Regional Culture; protect local artistic achievements, to promote contemporary art creation, improve the public aesthetic quality and promote domestic and international artistic exchanges; strengthen Fine Arts Museum's status and role in the public cultural service system, promote great development and prosperity for Heilongjiang culture and the arts.
Heilongjiang Provincial Art Museum collects and exhibits Heilongjiang membership artists' works and artifacts, documents that reflect the development of the Heilongjiang Provincial Academy of Fine Modern and important art activities in Heilongjiang Province. Heilongjiang Provincial Art Museum also collects and exhibits domestic and international works and literature of Art schools that have an important impact as well as creation of contemporary Art and the representative achievements of Art Research. Therefore gradually establish the system for art collections, exhibitions on display, and academic research, the aesthetic education and cultural service which reflect the development level of contemporary art and the Heilongjiang Academy of Fine Construction of Great, thus built the important place as well as the national major fine arts venues where spreading human civilization, promoting advanced culture, and shaping the human spirit as all.
Before the mid-1980s, Heilongjiang Province Art Museum was once one of the early built Provincial Museum of Art with larger scale, relatively leading professional facilities and level of activity. Under the leadership and care of the Provincial Party Committee, Provincial Government, Provincial Propaganda Department and Literary Federation Heilongjiang Province Art Museum made efforts to service for the construction of culture and art, and enrich the people of the province's social and cultural life in the classic collection of fine art. In space of theoretical research, boutique creation, exhibition, educational outreach, and internal and external communications, Heilongjiang Province Art Museum played a huge role, made a significant contribution to the prosperity and development of culture and the arts in Heilongjiang Province.
Since the construction of Heilongjiang Provincial Art Museum completed, it successfully held, hosted hundreds of large-scale art activities including national arts activities and made frequent exchanges of foreign art. In recent years, according to the geographical and cultural characteristics, Heilongjiang Provincial Art Museum actively built the diversified and interactive platform, formatted volunteers team, held many Exhibitions such as Chinese Contemporary Art Exhibition, Chinese Contemporary Printmaking Exhibition, National Touring Exhibition of the Collection of Works, International Art Invitational Exhibition, Heilongjiang, Jiangsu, Anhui, Guizhou and Guangdong Five Provinces' Contemporary Printmaking Exhibition, International Art Exchange Exhibition, and a variety of academic seminar., Heilongjiang Provincial Art Museum efforts to broaden the promotional channels for exhibition, collection, public education and exchange based on geographical aesthetic research. At the same time, Heilongjiang Provincial Art Museum gives enough cultural concerns and theoretical exploration of Heilongjiang, China and the international contemporary art development.
黑龙江省美术馆是以收藏、研究、展览 、陈列、公共教育、文化交流和艺术服务等多项职能为重点的官方造型艺术博物馆,是向公众免费开放的永久性国家公益文化事业机构。
黑龙江省美术馆始建于1962年 ,经过五十年的发展与完善,现下设黑龙江省版画院、黑龙江美术创作研究院、典藏部、展览陈列部、理论研究部、公共教育部、学术委员会、黑龙江版画原创产业基地等专业部门。目前编制40人,正高级职称10人,副高级职称10人,馆藏美术作品5300余件,建筑面积3000平方米,展览面积1000平方米,坐落于哈尔滨市道里区地段街97号。
黑龙江省美术馆的宗旨是:坚持公益性与公共性,弘扬民族文化,传播先进文化、传承地域文脉;保护地方艺术成果,推进当代美术创作,提高公众审美素质,促进国内外艺术交流;强化美术馆在公共文化服务体系中的地位和作用,推动黑龙江文化艺术大发展大繁荣。
重点收藏和展览反映黑龙江省美术发展历程,特别是近现代黑龙江籍和在黑龙江省有重要美术活动的美术家作品、文物、文献;国内外有重要影响的美术流派、美术家代表作品及文献;当代美术创作、美术研究代表性成果。逐步建立起反映当代美术发展水平和黑龙江美术大省建设的美术藏品、展览陈列、学术研究、审美教育体系和文化服务体系,成为传播人类文明,弘扬先进文化、塑造人文精神的重要场所和全国重要的美术场馆。
二十世纪八十年代中期以前,黑龙江省美术馆曾是新中国较早建馆、较有规模、专业设施和活动水平相对领先的省级美术馆之—。在省委、省政府的关怀和省委宣传部、省文联的领导下,省美术馆努力为全省文化艺术建设和丰富人民群众的社会文化生活服务,在美术作品的经典收藏、理论研究、精品创作、展览展示、教育推广、内外交流等方面发挥了巨大作用,为黑龙江省文化艺术事业的繁荣与发展做出了重大贡献。
建馆以来,黑龙江省美术馆成功举办、承办了包括全国性艺术活动在内的数百项大型美术活动,对外艺术交流频繁。近年来,我馆根据自身地域与文化特色,积极搭建多元互动平台、组建志愿者团队,多次举办中国当代艺术展、中国当代版画展、馆藏作品全国巡回展、国际艺术邀请展、黑苏皖黔粤五省当代版画展、国际艺术交流展以及各类学术研讨活动,以地域美学研究为基础,努力拓宽展览、收藏、公共教育和交流推广渠道,同时对黑龙江、中国乃至国际当代美术发展给予足够的文化关注和理论探索。