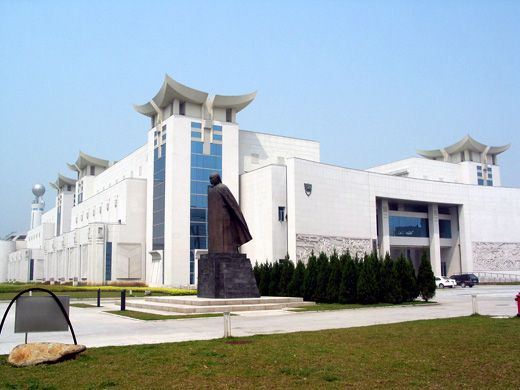 Fujian Art Museum
福建省美术馆
Fujian art museum is a public institutional organization of social culture with such functions as collection the excellent art works, developing the academic research, holding the display and exhibition, promoting the art and cultural exchange,it is influential in the province and outside in the modern and contemporary period.
Since its founding in 1981, the Fujian art museum has become from a exhibition site with single function to art exchange center by several generation' s efforts , especially in these years, all development projects of museum has made the considerable progress and enjoyed the great popularity and enhanced its position and increasingly become a significant window of cultural exchange and important place of people's spiritual life in Fujian.
Fujian art museum consists of executive office, display and exhibition department, academic theory department, public education department and collect and protect department which performs its own functions and connected with each other to make a good job of professional business and research and development and simultaneously ensure museum running well.
The exhibition room of Fujian art museum covers the area of 1200m2 with the standard route development 320m that could hold the medium and large scale or various kinds of art works together, since its funding, the museum has hold the exhibition for hundreds times with the audience reception of 0.6 million people and 30 thousand artworks on display and some of which are from Japan, Chile, Columbia, Scotland, Finland, Hong Kong and Tai wan.
Once lacquer painting is mentioned, Fujian will be refer to together, thank to the intense atmosphere of lacquer culture in Fujian, our artists are mainly producing lacquer painting and won many prizes in all kinds of competition with more than twenty years experience, their artworks are not only collected by national art museum of China but included in the "Chinese art complete works. Lacquer painting Volume"Our museum has collected many fine artwork from Fujian lacquer painter and previous national award artworks and we have had more than two hundreds of art work collection inclusive of Fujian old and new lacquer painter's master work and other high artistic value works, for example, state-level craft master Wang Heju's 19 art treasures inclusive of "Lao Zi leaving pass", Qiao Shiguang' s " Fuzhou Liberation Bridge in the 1960s" , Wu Chuan 's 7,excellent artworks inclusive of " Mist" and "Haystack" , Zheng Yikun' s " Still Life" and " Goldfish" , Chen Lide' s " Bright Moon and Red Candle" , Liang Yuchu's " Release the lantern on the sea" and other award winning artworks from almost 60 artists such as young and middle aged painter Zheng Jinsheng, Zheng Xiuling, Wu Jiachuan,Tang Mingxiu. As the lacquer painting is concerned, our museum is one with most and relative high quality and complete collection and is influential at home and abroad.
Over twenty years, by means of special subject collection, acceptance of the donation, higher authorities allocating, artwork in place of rent and special fund for collection, our museum has collected a thousand artworks which consists of oil painting, traditional Chinese painting, lacquer painting, folk famer painting and calligraphy, more than 600 artworks of them are made by dozens of famous artists that includes Xu Beihong, Lin Sanzhi, Ya Ming, Li Jianchen, Chen Zifen, Song Xingyu, Li Shuoqing, Gu Yichen, Li Geng, Li Xia.
Fujian art museum entering the new century has tried to achieve the goal of perfect function, rich collection, ultra-modern facilities with a brand -new look and effective work and made its own contribution to the cause of Fujian art and achieved more success on art for Fujian people.
福建省美术馆是一所公益性社会文化事业机构,是具有收藏美术精品、开展学术研究、举办陈列展览、促进文化艺术交流等职能,在省内外具有一定影响的近现代美术博物馆。
自1981 年建馆以来,经过几代人的努力,福建省美术馆已从单一功能的展览场所发展成为现在的艺术交流中心。特别是经过近几年的努力,美术馆的各项建设取得了长足的进步,扩大了影响,提高了地位,日益成为福建文化交流的重要窗口,人民精神生活的重要场所。
福建省美术馆现设有行政办公室、陈列展览部、学术理论部、公共教育部、收藏保管部等部门。各部门各司其职,各负其责,却又相互联系,相互贯通,在搞好各个专业范围内的业务活动和研究开发工作的同时,保证本馆日常事务的正常运作。
我馆展厅面积1200m2 ,标准展线320m,可同时举办大中型或不同类型的美术作品展。建馆以来,已举办美术作品展数百场次,接待观众六十万人次,展出美术作品三万多件,其中有菲律宾、日本、智利、哥伦比亚、苏格兰、芬兰、香港、台湾等十几个国家和地区的展览。
"凡提漆画,必提福建"。得益于福建浓郁的漆文化氛围,我馆现有的美术创作人员以漆画为主。他们均有二十年以上的创作经验,他们的创作作品在各项赛事中获奖繁多,除中国美术馆有收藏外,《中国美术全集·漆画卷》亦有收录。
对我省漆画家创作的精品和历届全国获奖作品,我馆一直有较完整的收藏。到目前为止,馆藏有福建新老漆画家的代表作及艺术性较高的作品二百多幅。如国家级工艺大师王和举的《老子出关》等十九幅珍品;乔十光的《二十世纪六十年代的福州解放大桥》;吴川的《雾》、《草垛》等七幅精品;郑益坤的《静物》、《金鱼》;陈立德的《皓月红烛》;梁汝初的《海上放幻灯》;还有中青年画家郑金胜、郑修钤、吴家川、唐明修等近六十人的获奖作品。就漆画而言,我馆目前是全国收藏漆画数量最多,质量较高,也最为完备的单位,在国内外有一定的影响。
二十多年来,我馆通过专题征集、接受捐赠、上级拨交、以画代租、专款收藏等多种途径,共收藏油画、国画、漆画、民间农民画、书法等作品千余幅,其中有徐悲鸿、林散之、亚明、李剑晨、陈子奋、宋省予、李硕卿、顾一尘、李耕、李霞等几十位名家的作品六百多幅。
走进新世纪的福建省美术馆正以崭新的面貌和有效的工作,努力实现"功能健全、藏品丰富、设施先进"的目标,为福建的美术事业添砖加瓦,为福建的人民高奏艺术之歌。