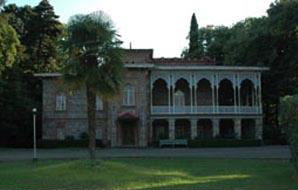 Chavchavadzes Museum in Tsinandali, Georgia
恰夫卡瓦泽博物馆
Tsinandali, one of the most remarkable country estates in Kakheti, Georgia. Tsinandali refers to four different phenomena: the Estate of Tsinandali, the village of Tsinandali, the Chavchavadze's summer home, and several vintages of white wine. Initially built during the 19th Century, the house, winery and gardens tell the story of a fascinating family: The Chavchavadzes.
Tsinandali complex occupies 20 Hectares, there you can find different kind of facilities. Among of them are important the following ones: Museum building (total amount of space 700 m2. meters. Exhibit spaces are 3, with total amount of 307 m2.; first room: 62 m2., second room 65 m2., third_180m2. ) Old Vinery, where are held different kind of events, with total exhibit space amount of 908 m2 and the hotel there is extra exhibit space of 120 m2.
The main partner of Chavadzes Museum in Tsinandali is Silk Road.
恰夫卡瓦泽博物馆位于格鲁吉亚的希南达里。
希南达里是格鲁吉亚卡赫季州的一个非常有名气的田庄。主要分为四个部分:希南达里庄园,希南达里村庄,恰夫卡瓦泽避暑之家和几个白葡萄酒厂,这些建筑最初建于19世纪,这些房舍,酒厂还有花园都将告诉你有关恰夫卡瓦泽这个家族的故事是多么的迷人。
希南达里整个庄园占地20公顷,设施齐全。博物馆大楼占地700平方米,包含 3个展厅,总面积为307平方米,其中一楼62平方米,二楼65平方米,三楼180平方米。历史悠久的葡萄园可以用来举办各式各样的活动,其展厅面积908平方米,此外还有酒店及临时展厅120平方米。
希南达里的恰夫卡瓦泽博物馆的主要合作伙伴是丝绸之路。