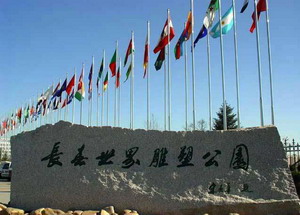 Changchun World Sculpture Park
长春世界雕塑公园
Changchun World Sculpture Park located in the south of Changchun main street Renmin Road covering the area of 92 hectares is a theme park integrating modern sculpture arts and displaying the world sculpture art schools and a modern city sculpture park combining with the natural landscape and human landscape.
Changchun World Sculpture Park was built in 2000 and opened in September 5, 2003 with the reception of more than one million tourists home and abroad and received the praise from leaders at different levels and the tourists all around the world. The sculpture park is a large scale art theme park of modern sculpture with the characteristic of the natural and human landscape in harmony and with the subject of friendship, peace and spring and with the concept of East and West cultural and Art fusion.
The Sculpture Art Museum is the main building in the Changchun World Sculpture Park. It has construction area of 12,500 ㎡ for collection and display of the rare African Makonde woodcarving and more than 1000 classic works of both domestic and foreign sculptors. The appearance of the museum is so unique that itself is also a fine piece of sculpture. There is a characteristic display zone, especially for the display of fantastic collection of art with different styles from five continents. The art museum has showroom, classroom, international meeting room and sculpture creation studio. It has complete function and first-class facilities, providing a space for sculpture lovers to show ego and feel the charm of art. There are hundreds of the world's most magical African Makonde woodcarvings and many collected and collecting great sculptures of Chinese and foreign famous sculptors, making visitors linger.
长春世界雕塑公园位于长春市主干道人民大街南端,占地约92 公顷,是一个融汇当代雕塑艺术、展示世界雕 塑艺术流派的主题公园。是集自然山水与人文景观相融的一座现代城市雕塑公园。
长春世界雕塑公园建设于2000 年,2003 年9 月5 日正式对外开放,共接待国内外游客100 余万人次,受到各 级领导及海内外游客一致好评。长春世界雕塑公园是一座以自然山水与人文景观相融为特色、以"友谊·和平·春天"为主题、以东西方文化艺术相融合为理念的大型现代雕塑艺术主题公园。
雕塑艺术馆是长春世界雕塑公园园内的主体建筑,拥有建筑面积为1.25 万平方米的雕塑艺术馆,馆内收藏并展出珍稀的非洲马孔德木雕作品及国内外雕塑家的经典作品1000 余件。艺术馆外形设计独特,本身就是一件精美的雕塑作品。馆内设有特色展区,专门陈列来自五大洲风格不同的艺术精品。艺术馆还设有陈列室、教室、国际会议室和雕塑创作工作室,功能齐全,设施一流,为广大雕塑爱好者提供一个展现自我,感受艺术魅力的天地。馆内还藏有世界上最神奇的非洲马孔德木雕数百件,还有已经收藏或正在收藏的中外著名雕塑家的大批精品雕塑,都让 参观者流连忘返。