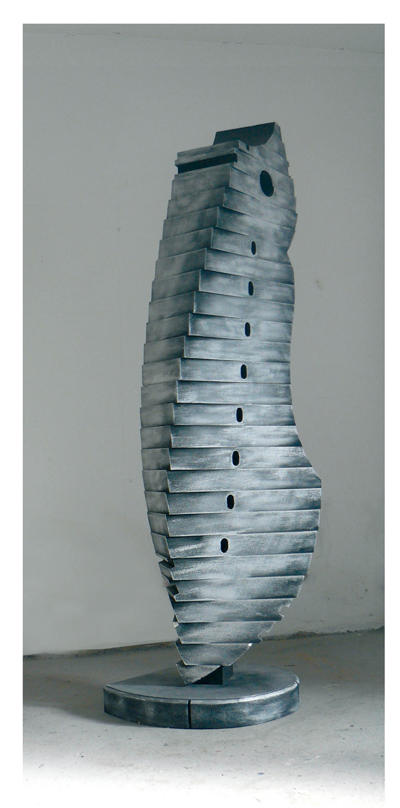 John Atkin - Twister
(Cast Concrete, 220 x 66 x 65 cm) 
"My research visit to China in 2012 allowed me to visit the vast archaeological mausoleum of the Terracotta Warriors in Xian. A contemporary interpretation of this ceramic army is core to the understanding of my sculpture, entitled "Twister". 
My interest in the Terracotta Warriors explores ideas of "acrobats and dancers" assigned to entertain the Emperor Qin in his afterlife.  Resulting artworks have been made at various scales and using wide ranging materials, from granite to fabricated aluminium.
The form of Twister is derived from tailored patterns: elegant contoured shapes that are one at the same time a metaphor for human identity. These primary flat outline shapes have been expanded into three-dimensional form - to create a sense of the human figure trapped within the ordered patterns of garments, which we wear in order to project our own identity to the outside world. 
Twister is also resonant of a sentinel or lookout: an erect figure, pirouetting along its vertical length – ever observant, and watchful over the Emperor throughout his afterlife."